Hey Guys :)
Today, wanna talk about the work I did for Grimes in The Face Magazine, 
I never post this project on my Artstation, I think blog post section is perfect for that. I really want to speak about this !
So, earlier this year, I was contacted by The Face Magazine, to collaborate with us on their Interview with Grimes. 
Funny thing is, Grimes follow me on Instagram, and she contact the magazine to work with me. It was crazy, as I know well the work for Grimes and it was few weeks after her music for Cyberpunk 2077 on the Game Awards show. 
The coolest thing here, is Grimes have a crazy universe, I really like how she turn her music video, and influences she take. 
The Idea here, was to work on her ''avatar'', the model was created by her brother, and had scans of her tatoo & skin ( redoing all the tattoos would have been hell haha ). 
I had to make every single picture of her, to illustrate the interview, and the most important thing, make the Cover of the Magazine. 
I also was in charge to recreate, two of Balenciaga Dress. 



Few words about the process. 
Let's speak a little about the process and how I proceed to make everything in the right time, first, I had to work on a model who already exist, the model got no rig information, & was in T-pose. 
First thing, was to rework a little the model, I send it in zbrush & try to push it a little. Without break the UV information ( to keep scan textures ) and build different subdivision history, to be more flexible during the project, for rigging, baking..
The Idea, was to import It into substance Painter, and bake it to get 4k textures map ( All the scans was in 2K resolution ). And rework in depth all the textures, upscale every tattoos, and then, yes, paint over on tattoos...  to have better resolution everywhere. 
After that, I build the both dress on Marvelous Designer, it was crazy & also challenging, when you recreate this type of clothes ( The gold one ) you really need to gather many reference you can, and try to fit to the original design.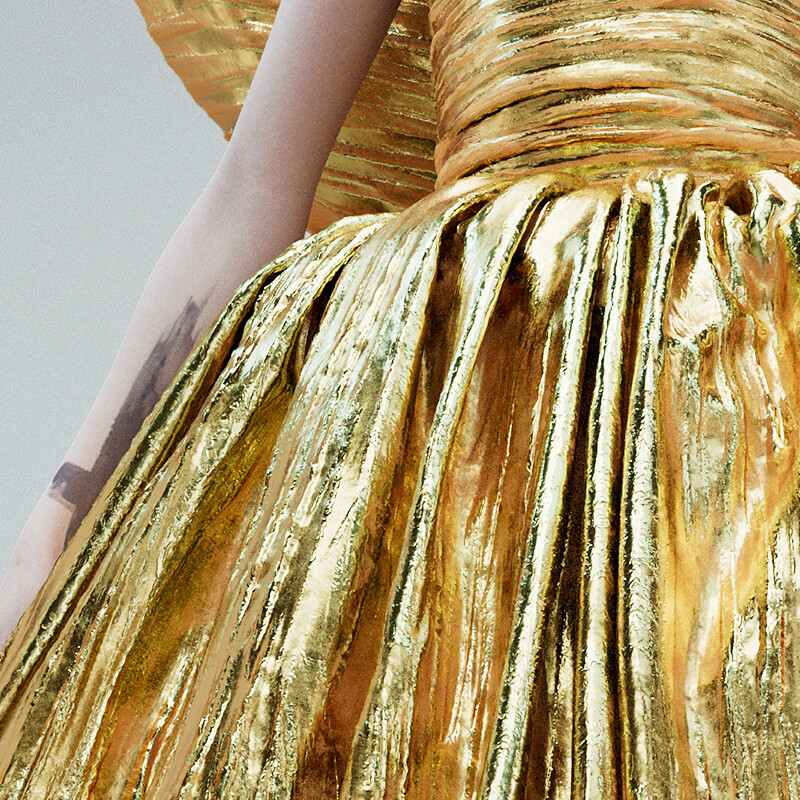 The gold dress was the most difficult part of this project, it's really not something you make often in 3D, this kind of aluminium feeling is really hard to make. To get this kind of effect, after I got the shape on Marvelous designer, I sculpt every details in zbrush, to get the most detail possible, and extract them in Substance Painter. If I remember, the dress got almost 15+ Udim tile, just to get details everywhere :') .
Last thing was to get a rig, and have a collection of poses, I made 5+ different pose for all the different shot I had to do. 
All the rigging was build on Maya & all the final images was rendered in Arnold.


It was a crazy opportunity for me, I'm really happy to be a central part of this project ! 
Hope you like it guys, don't hesitate to tell me your thoughts about this :)
~~ Sorry for my English  :') ~~ 
Have nice day, hope everything going well for you, in these hard times !
Links